Who said corporate events had to be
stuffy and serious?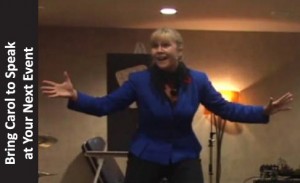 International award winning speaker, Carol Carter brings humour and entertainment with her down-to-earth, practical view of leadership, communication and life in the workplace. Her core messages :
Leadership Unlocked: 5 Keys to Be the Leader They Will Follow
Hands off My Stapler! Why your coworkers are crazy and what you can do about it.
Are You Ready? Turning possible into likely … into reality
3 Fatal Mistakes that Keep Good Women from Being Great Speakers
Carol's dynamic and inspiring speaking style placed her among the top 18 speakers in the world out of over 35,000 Toastmasters who competed in the 2012 World Championship of Public Speaking. Her keynote presentations move the hearts of her audiences to view life and their place in this world in a different way.
To bring Carol Carter to speak at your next corporate event call 778-668-8805 or click HERE to contact her by email.
What audiences are saying about
Carol Carter's speaking:
"The audience was spell-bound; they hung on every word and couldn't take their eyes off you. Magnificent performance!" ~ Doug Bing, Pitt Meadows BC
"Very enjoyable and informative." ~ G. Dale, BC Ferries
"The audience laughed and smiled and was totally engrossed." ~ Veronica Armstrong, Richmond BC
"Powerful advocate for leadership! Excellent! Thank you!" ~ Allen Lin, Vancouver BC
"Very entertaining and kept us on our toes." ~ Jason Chan, Burnaby BC
" Great message – very appropriate and relevant. Great delivery." ~ Jason Jantz, , Vancouver BC
"Funny! Humour – love it!" ~ Cam Chirando, Burnaby BC
"Excellent speech. Love your energy and smile. Great emotions! It's not often that I see this great enthusiasm. Love it!" ~ Kim Lesyk, North Vancouver BC
"Great delivery! Well organized and gave me plenty to ponder. Good stuff!" ~ Theresa Moleski, North Delta BC
"Vibrant! Very interesting." ~ Jean Grove, North Delta BC
"The audience was engaged, smiling, nodding their heads. Well prepared. Great topic. Excellent job!" ~ Linda Hykin, Vancouver BC
"Wow – a great, entertaining presentation. Great voice and excellent learning given to us." ~ Marilyn Rorrison, Surrey BC
Other comments

(from shy people who didn't leave names):
"The message was powerful. A wake up call for all of us"
"Impressive, well prepared."
"Loved your topic and presence on stage. Well put together and very authentic."
"Great energy and engagement with audience. Such a natural and vivacious speaker!"
"The content was excellent. The message was strong. Very entertaining."
Laugh and learn something of value while you meet, celebrate, award, announce and carry out your organization's goals. Bring Carol Carter to speak at your next corporate event call 778-668-8805 or click HERE to contact her by email.
To view more information about Carol Carter click HERE
OR fill out the form below and Carol will contact you.